Documents
Documents

Analysis of the CELAC landscape of Research Infrastuctures
Document elaborated by the project EULAC FOCUS, funded by Horizon 2020. It summarizes the current political dialogue between the EU and LAC and presents a selection of national and multinational Research Infrastructures open or ready to be opened for international collaboration.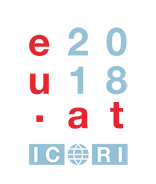 Conclusions of the ICRI 2018 event
The ICRI 2018 Conference took place in Viena, in September 2018, during the Austrian Presidency of the European Council, 
The aim of the conference was not only to discuss and debate a great variety of issues, but to focus on certain pressing issues and move the debate towards concrete conclusions and propose ways forward to secure effectiveness and functionality of RIs. The conference had 5 Parallel Sessions that looked at specific issues in more detail, being one of them internationalisation. Other issues were human resources, fostering of diversity and overcoming of inequality, enhancing societal value, and data.
All the slides of the Parallel Sessions, as well as the agenda and conclusions of the Conference are available at the ICRI2018 webpage.