EU - CELAC Ministerial meeting, 16-17/07/2018
EU - CELAC Ministerial meeting, 16-17/07/2018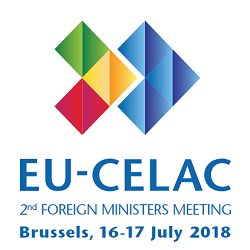 Ministers of foreign affairs from the EU and from the Community of Latin American and Caribbean States (CELAC) met on 16-17 July in Brussels.
They adopted a declaration "Building bridges and strengthening our partnership to face global challenges":
Declaration following the second EU-CELAC ministerial meeting
Our meeting has shown once again that our partnership is irreplaceable. We are united by our peoples, interconnected by our economies and bound by our shared values. Latin America and the Caribbean can count on the EU as a responsible partner that is willing to become more involved in all matters of common interest and concern.​ Federica Mogherini, High Representative of the Union for Foreign Affairs and Security Policy
We were able to continue to consolidate our historical links and the principles which we share which have allowed us to ensure that we have interconnected regions, facing challenges together. We want to promote an active, open, transparent and substantial dialogue in areas of mutual interest which can benefit the people in both regions. Carlos Castaneda, acting Minister of Foreign Affairs of El Salvador and Pro Tempore President of CELAC.
More details: https://www.consilium.europa.eu/en/meetings/international-ministerial-me...