Available results of the 4th EU-LAC Joint Call on STI
Available results of the 4th EU-LAC Joint Call on STI
Available the final report of the 4th EU-LAC Call, with information on the proposals (non eligible, elegible and funded), as well as the statistics
Thursday, 1 December 2022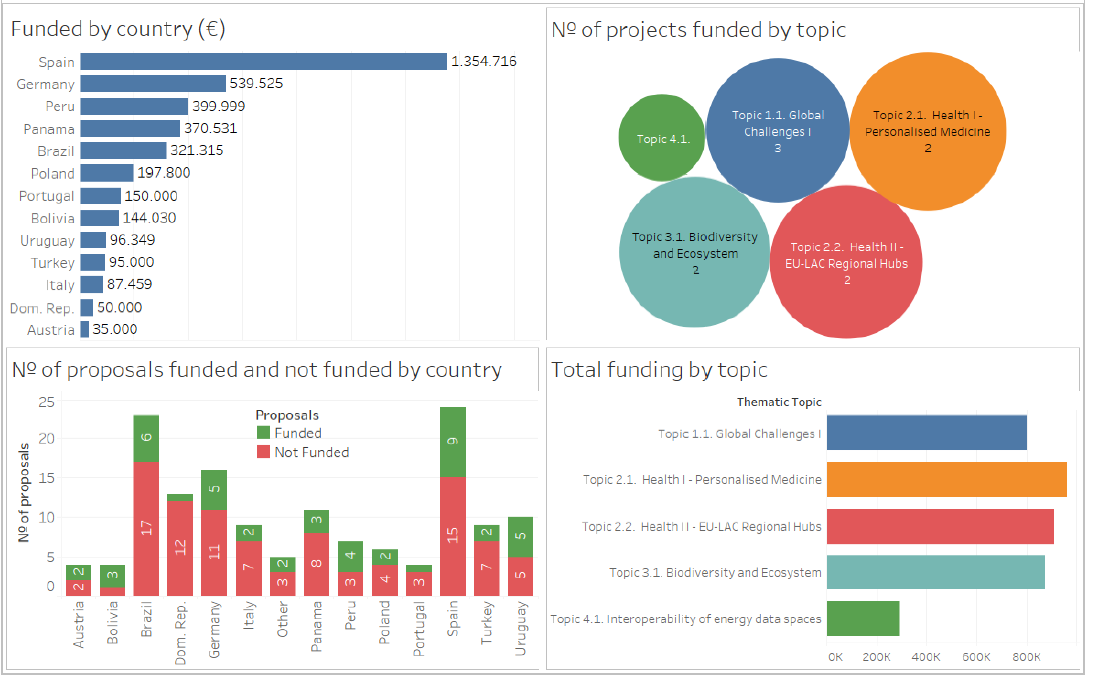 Available results of the 4th EU-LAC Joint Call on STI
A total of 40 proposals were submitted to the Call, 30 of them eligible under international and national/regional rules and therefore, evaluated.
The evaluation process, which took place from May to September, was performed by 70 evaluators from different EU and LAC countries. All eligible proposals were evaluated by at least two independent experts.
The Scientific Evaluation Committee, whom rewieded all the proposals and evaluations, and ranked and provided a funding recommendation for all the proposals, was composed by 15 experts (three per topic), from both regions. The online SEC meetings were held during the first week of October. The final decision and selection of proposals to be funded was made by the Group of Funidng Parties during the Funding Decision meeting held online on the 14th of October 2022. The Group of Funding Parties confirmed the selection of 10 proposals with a total funding of 3,715,193€, as specified in the official Funding Resolution of the 4th EU-LAC Joint Call in STI 2022..
More information on the statistcs of the Call, including entities and countries participating in the selected proposals and statistics on evaluators and SEC members can be found here: https://www.eucelac-platform.eu/statistics