Proposal writing camps for the Horizon Europe Program: documentation available
Proposal writing camps for the Horizon Europe Program: documentation available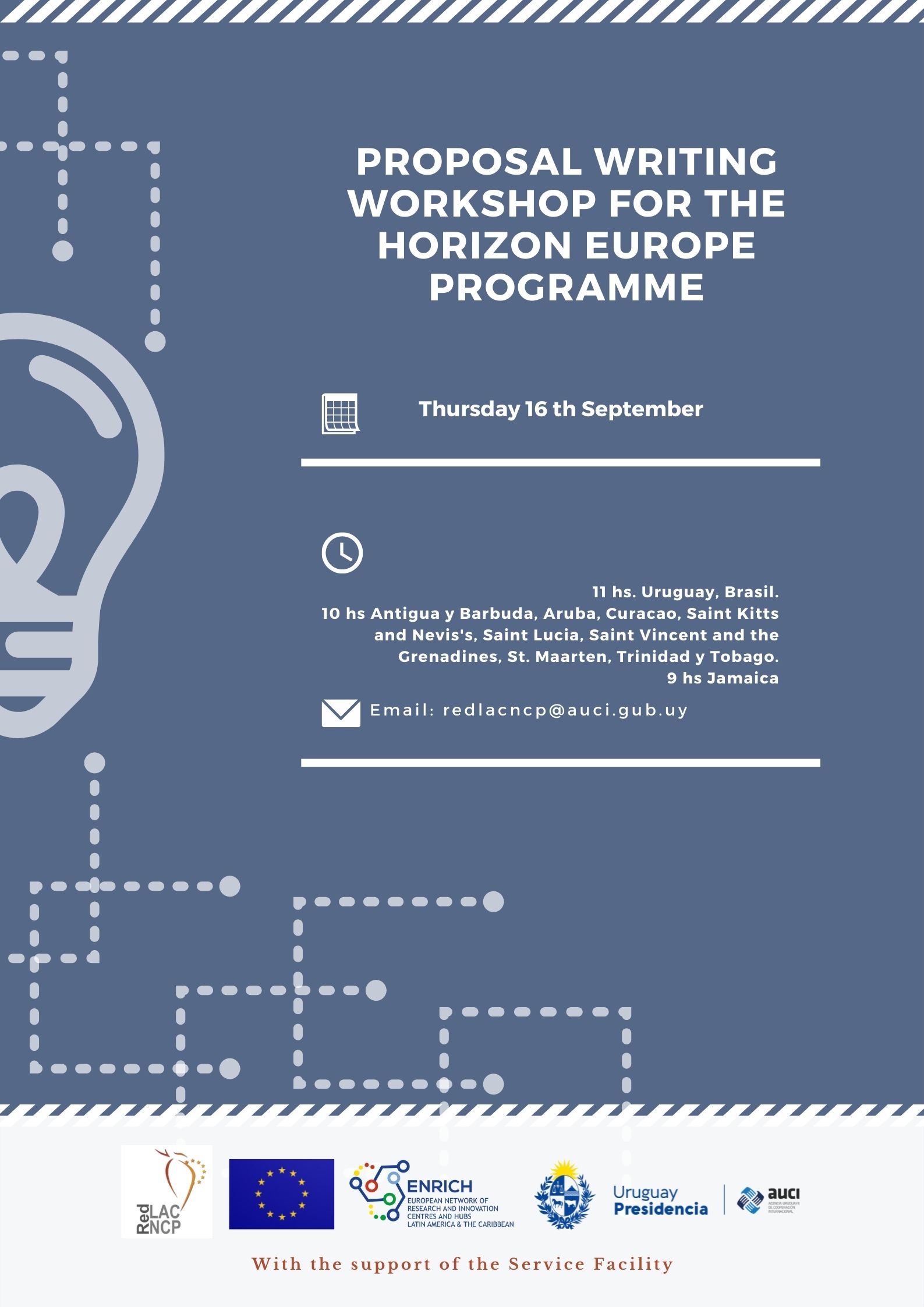 09/09/2021 - 09:00

to

15/09/2021 - 20:00
On September 9th, 10th, 15th and 16th of 2021, were held 4 proposal writing workshops for the Horizon Europe Program. They were led by Maite Irazábal and Alejandro Quinteros, part of the team of the Latin American and Caribbean Network of National Contact Points (LAC NCP Network) and the Uruguayan Agency for International Cooperation (AUCI).
These workshops were supported by Anneken Reise, Marianne Vaske and Silke Gundel, representatives of the Service Facility, Enrich in LAC Project and the NKS-Netzwerk zu Horizont Europa.
The invitation to participate was made to all the Latin America and the Caribbean countries and 3 workshops were held in Spanish and one in English. Spanish sessions count with participants from Universities, Research Centers, companies, Science and Technology Institutions of National Contact Points (NCP) from countries such as: Andorra, Argentina, Austria, Belize, Bolivia, Brazil, Chile, Colombia, Costa Rica. In the spanish sessions participated 26 countries from LAC such us Cuba, Ecuador, El Salvador, Spain, United States, Guatemala, Honduras, Mexico, Nicaragua, Panama, Peru, Paraguay, Portugal, Dominican Republic, Uruguay, Venezuela. The sessions in Spanish had 1325 registrations.
In the English sessions participated countries such as: Germany, Antigua and Barbuda, Netherlands Antilles, Argentina, Aruba, Belgium, Brazil, Colombia, Costa Rica, Cuba, Ecuador, Guatemala, Italy, Jamaica, Mexico, Peru, Portugal, Russia, San Marteen, Saint Vincent and the Grenadines, Turkey and Uruguay. In total there were 22 countries, 16 were LAC countries and 6 were English-speaking Caribbean countries. This session had 82 registrations from Universities, Research Centers, Science and Technology governing bodies of various governments in the region, government institutions, Foundations, Companies and Civil Associations.
The sessions intended to provide participants different tools for writing proposals for the Horizon Europe program, for partners' search, formulating and uploading institutional profiles.
The main objective was to motivate the institutions of Latin America and the Caribbean to participate in the Horizon Europe Program, enhance the capacities of the region and stimulate the various actors to participate in the various calls of the program based on the incorporation of tools and promote international cooperation between Europe and LAC.
You can download the presentations from this platform and re-watch the workshops on Youtube, through the following links:
Follow us on Twitter: @NcpRedlac, @AuciUruguay, @ENRICH_in_LAC, @NKS_Horizon_EU; @eu_lac_sti
Linkedin: https://www.linkedin.com/company/red-lac-ncp/?viewAsMember=true